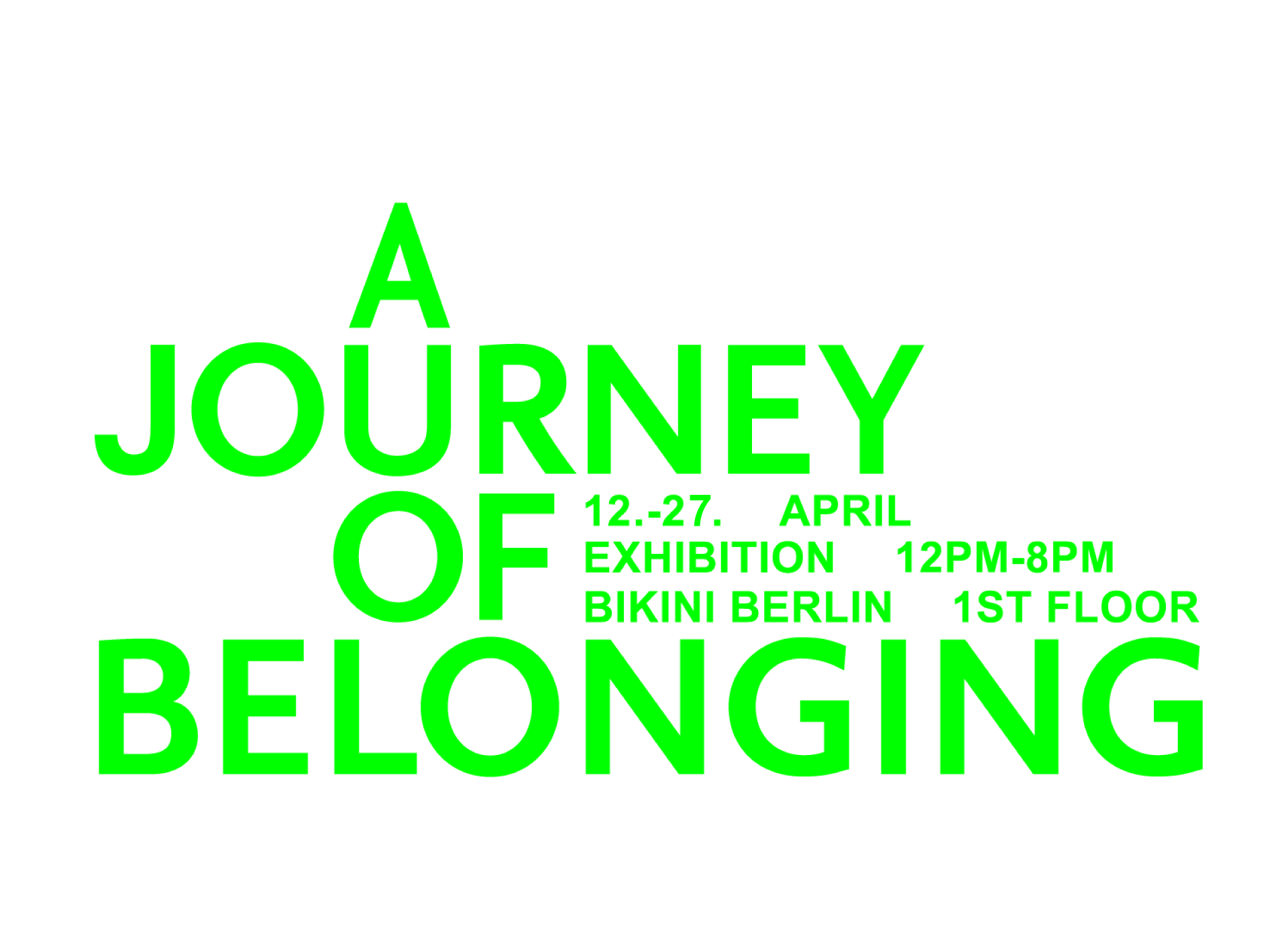 A JOURNEY OF BELONGING - PART II
Veranstalter des Atelier- und Ausstellungsprogramms "A Journey of Belonging - Part II" ist die Contemporary Arts Alliance Berlin www.caa-berlin.org, eine Plattform für privates Engagement zur Förderung zeitgenössischer Kunst und Kultur in Berlin.
Im Rahmen einer Ausstellung, die als Verkaufsausstellung konzipiert ist, sollen die KünstlerInnen mit der Kunstszene Deutschlands in Kontakt kommen, sich Netzwerke aufbauen und ihre wirtschaftlichen Perspektiven stärken. Der Fokus der Ausstellung liegt dabei auf der jetzigen Situation und der Zukunft der KünstlerInnen in unserer Gesellschaft.
Das dazugehörige Atelier-Stipendium und Mentoren Programm bietet hierfür bis zu zehn Künstlern die Möglichkeit, über vier Wochen im Bikini Berlin ihr Atelier zu beziehen.
Mit "A Journey of Belonging - Part II" widmen sich die KünstlerInnen dem Thema von Zugehörigkeit auf politischer, emotionaler, ästhetischer, gesellschaftlicher oder territorialer Ebene. Die Arbeiten kreisen um Eigen- und Fremdzuschreibungen von Identität, die sich in kreativen Auseinandersetzungen mit Zugehörigkeit und Abgrenzung abbilden. "A Journey of Belonging - Part II" setzt damit die künstlerische Auseinandersetzung der Ausstellung von 2017 zum aktuellen Fluchtgeschehen fort und erweitert sie um Themen der Teilhabe und Selbstvergewisserung.
___________________________________________________

The organizer is the Contemporary Arts Alliance Berlin (CAA Berlin, http://www.caa-berlin.org), a platform for private commitment for the promotion of contemporary art and culture in Berlin.
Within the context of the exhibition, which is designed as a selling exhibition, the artists are supposed to get in touch with Germany's art scene, to build networks and to strengthen their economical perspectives. The focus of the exhibition is on the artists' present and future situation in our society.
The related studio and mentor-programm therefore offers up to ten artists the possibility to move into their studio at Bikini Berlin for a period of four weeks.

"A Journey of Belonging – Part II" presents different artworks which address the sense of belonging on a political, emotional, aesthetic, social and territorial level. The exhibition takes a close look at attributions of identity by oneself or by others, presenting them in creative disputes about belonging and dissociation.
Thereby, "A Journey of Belonging - Part II" continues the artistic debate of the exhibition of 2017 on the migration flow and its consequences and expand the debate with topics of participation and self-assurance.